Images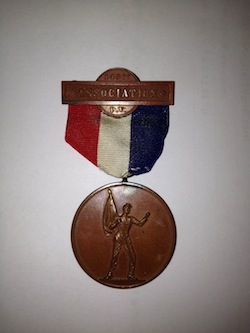 A medal that may have been given to all who served in the 143rd PA in the war. At top is a ribbon with a metal bar denoting "143rd, ASSOCIATION, P. V" On the left of the word ASSOCIATION is the First Corp badge and on the right, the Fifth Corps badge (DeLacy served in both corps). The medallion below the ribbon has the 143rd's Color Bearer Ben Crippen on the front shaking his fist at the enemy.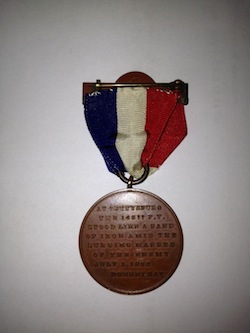 A quote from Gen. Abner Doubleday on the back: "AT GETTYSBURG THE 143rd P. V. STOOD LIKE A BAND OF IRON AMID THE SURGING MASSES OF THE ENEMY JULY 1, 1863 DOUBLEDAY".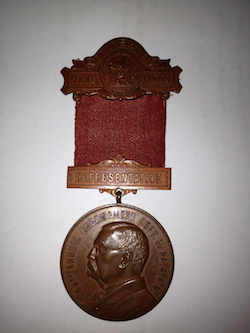 GAR (Grand Army of the Republic) medal, June 1909. The GAR was an organization for veterans of the Union Army in the Civil War. A likeness of Patrick DeLacy decorates the medal's front; his image is surrounded by 43rd ANNUAL ENCAMPMENT DEPT OF PA G. A. R.. On the metal above the ribbon, the word GETTYSBURG is above a seal surrounded by the the words, GRAND ARMY OF THE REPUBLIC, and under the seal,1861 VETERAN 1866. At the bottom of the ribbon is a metal piece with REPRESENTATIVE from which hangs the medallion of Patrick DeLacy, described above.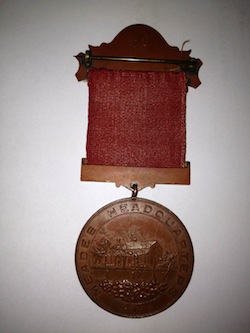 On the medallion's reverse is a relief likeness of Meade's Headquarters with the words "Meade's Headquarters" around it and a star at the bottom. The medal was made by J. K. Davison's Sons of Philadelphia.