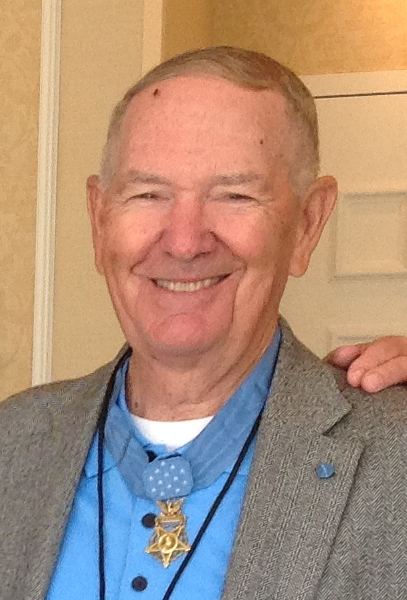 Walter J. Marm
Joe is one of 3 Medal of Honor recipients awarded a MOH for his action in the Ia Drang Valley in Vietnam. Gary Roche's friend, Bruce Crandall and his wingman, Ed W. "Too Tall" Freeman also received Medals for action there. In 2002 a movie was made about them, "We Were Soldiers". It is based on the 1992 book, "We Were Soldiers Once….and Young", written by Joseph Galloway and Lt Gen Harold G. Moore (Ret.).
Joe spent a lot of time before and after the breakfast talking with Gary about the Captain DeLacy Medals, (the Civil War 1863 Medal and the Gillespie 1904 Medal), and his actions in the Civil War. Although Joe now lives in North Carolina, he is a Pennsylvania native and is the last living holder of the MOH from Pennsylvania. Gary lived in the same general area of PA and they spent time sharing stories of Pennsylvania some 50 years ago.
Joe gave Gary his challenge coin as a "thank you" for his efforts in preserving the history of the MOH.